Maxi-Range Pipe Couplings connect any two pieces of pipe of similar nominal size without disassmbly, or adapting end rings or transition gaskets. The Maxi-Range coupling is available 2" - 12". This ductile iron sleeve is rated at 250 psi and allows for up to ±5 degrees pipe.
Strong construction – Center ring and end ring are ductile iron.
SBR gaskets – seal over a wide range of pipe O.D. and exterior surface conditions.
Fully assembled – use as received without disassembly, modification, or parts change-outs.
Standard Cor-Ten Track head Bolting – with zinc corrosion protective coating and special shoulder under the head to prevent spinning while tightening; 304 stainless steel option.
Sizes: 2", 3", 4", 6", 8", 10", 12"
Standard bolts: Cor-Ten track head bolts with flash zinc coating and anti-spin feature, 304 stainless steel optional
Standard gaskets: SBR Center and end rings: Ductile Iron ASTM A536 65-45-12
250 psig (1725 kPa/17 barg)
Pipe deflection: ±5 degrees
Note: Compression couplings of this type do not provide resistance to pipe pullout.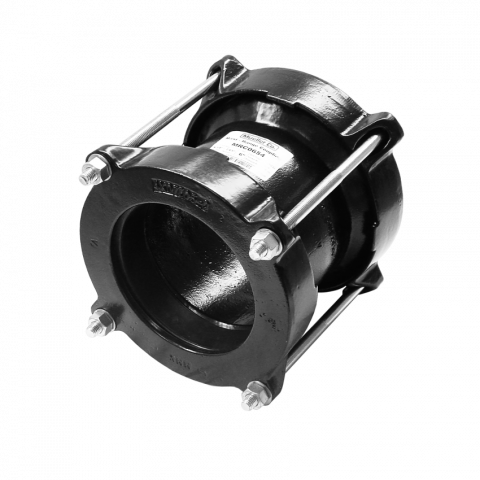 | | | | | | |
| --- | --- | --- | --- | --- | --- |
| Nominal Size | Pipe O.D. Range | Center Ring Length | Overall Laying Length | 5/8" Bolt Quantity | Approximate Weight- lbs. |
| 2 | 2.34-2.85 | 7.00 | 11.50 | 2 | 22 |
| 3 | 3.46-4.21 | 7.00 | 11.50 | 3 | 29 |
| 4 | 4.46-5.60 | 7.00 | 11.50 | 4 | 41 |
| 6 | 6.54-7.65 | 7.00 | 11.50 | 4 | 53 |
| 8 | 8.54-9.85 | 7.00 | 11.50 | 4 | 66 |
| 10 | 10.65-12.20 | 8.00 | 13.00 | 6 | 101 |
| 12 | 12.70-14.41 | 8.00 | 13.00 | 8 | 129 |
*Dimensions shown are in inches